Pay Matrix Table for Defence Personnel
7th Central Pay Commission has recommended an important ready recokner unique table for Central Government employees and Defence Personnel and also for both the Pensioners.
Separate pay matrices for Civilian employees, Defence Forces personnel and those of the Military Nursing Service (MNS) have been prepared, cell by cell, after due diligence and deliberations.
The structure, which essentially is the same for all segments, has been simplified so that each employee can find his or her place in the proposed matrix. All the employees belonging to various services will proceed according to their respective service conditions by earning increment on the basis of merit.
Any disturbance of the matrix structure will have a serious repercussion on the inter se positioning of various levels in the hierarchy, all of which have been extensively deliberated upon, along with the service conditions of all the employees serving in Government of India.
Therefore, the importance of not altering any portion of the three matrices cannot be emphasised enough, as doing so will disturb the parity of the services and create anomalous situations.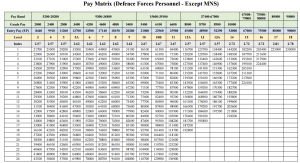 Authority: 7th CPC Report