Music and Dance competition for wards of Central Government Employees
F.No.18/3/2017-18-CCSCSB
Government of India
Ministry of Personnel Public Grievances & Pensions
(Department of Personnel and Training)
CENTRAL CIVIL SERVICES CULTURAL AND SPORTS BOARD
Room No.361, B Wing, 3rd Floor
Lok Nayak Bhawan, New Delhi
Date: 03-05-2018
CIRCULAR
Sub: Music and Dance competition for wards of Central Government Employees
Central Civil Services Cultural & Sports Board has been organising the Music, Dance and Shor Play competition for central Government Employees for the last many years. There were demands from a large number of participants and employees that a similar programme may also be started for their wards to motivate and encourage them.
2. It is therefore, proposed to organise the Music and Dance competition for wards of Central Government Employees at Auditorium on 30-31 May, 2018. The entry for the competition should be sent in the prescribed form to the Board's Office latest by 25th May, 2018 at Room No.361, 3rd Floor, Lok Nayak Bhawan, Khan Market, New Delhi-110003 or by email at [email protected]
2. The Competition will in held in the following categories:

4. Decision of the judges will be final and no appeal against their decision would be entertained.
5. For further queries , Neelu Sun (9910983139) Convener, CCSCSB (Music, Dance and Short Play) may be contacted.
6. The circular may be given wide publicity.
To
The Welfare Officer of all Ministries/Departments
Area Welfare Officer of all Government colonies
sd/-
(Kulbhushan Malhotra)
Secretary (CCSCSB)
Central Civil Services Cultural Sports Beard
(Department of Personnel & Training)
Application form for Music Dance Competition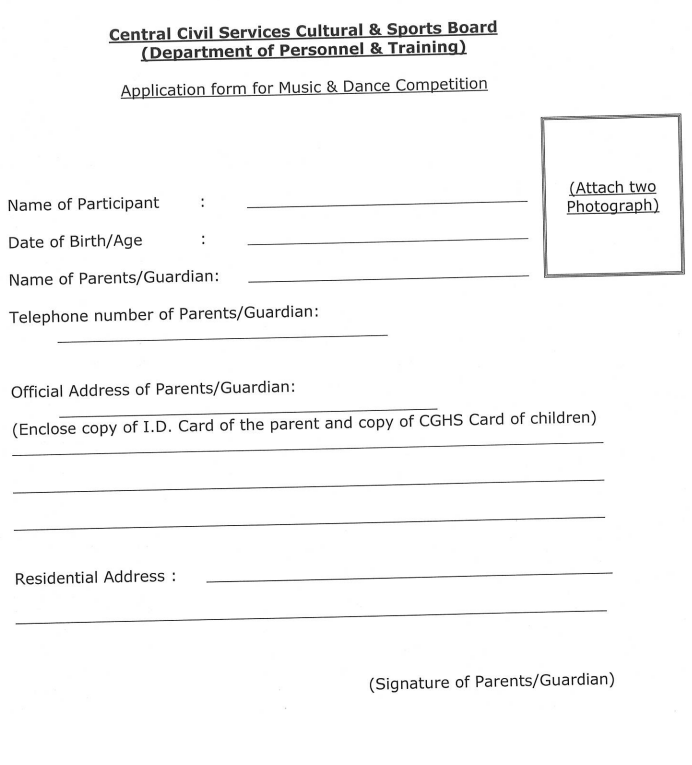 Undertaking
I understand that Board will take sufficient care about the general safety of the children during the competition. I shall not hold the CCSCSB responsible for any accident/casualty during the competition.
(Signature Of parents/Guardian)
Note: each participant should with his/her guardian during competition.
Authority: www.dopt.gov.in